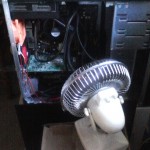 When stock cooling won't suffice and you can't afford a case with better airflow…it's time to improvise.
I know, I know. Why isn't the orange case fan plugged in? It's not plugged in because it so happens that it's not actually a case fan, it's really a jet turbine with aspirations. Unfortunately, its aspirations aren't so much of the "move hot air out of the case" variety, they're more of the "make noise than all of my other equipment put together" variety. The desk fan is quieter and moves much more air.
It's almost summer, yay! Time to start cleaning heatsinks.
Not much new to post.