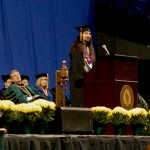 It's 12:35AM so I'm not going to be very wordy. Here's the upshot:
My mother and I have graduated from California State University, Sacramento, with our Bachelor's degrees!

She now has a Psychology degree.
I now have a Computer Science degree.

I was the Student Speaker at commencement. Hopefully most of you that listened to it were inspired to go out there and do cool things.
I'm going to grad school.

CSUS for my Master's degree.
Stanford or Berkeley for my PhD…eventually.

My dream: d.school. My Agile project management class did a presentation on it. I'd love to attend.

…but I'm thinking about getting into the Software Engineering field somewhere between the Master's and the PhD. After experiencing the joy of working on a small team that got stuff done and had fun while doing so (courtesy of Senior Project, and literally the first time I have experienced this kind of team), I'm very excited about the prospect of working with people who love working with computer software and hardware…and who love working with other people.
Obligatory image of me being inspiring on four hours of sleep:
I'm still waiting for it to sink in: we have our degrees.