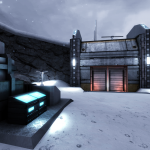 Snowstation is a small map in development for the multiplayer Quake III-based FPS/RTS game Unvanquished. It sports an asymmetrical layout and varied indoor/outdoor locations. It also utilizes the newer rendering features offered by Unvanquished, making it one of the few maps to do so. It will be shipped with the game When It's Done (TM), which should be in a few weeks.
The current release is beta 3, which added weather effects and some minor tweaks to the human base. Unfortunately the weather effect does not seem to work on all computers. I am trying to figure out why…
For now, however, Unvanquished players can try the map out for themselves. It is in rotation on the development servers and can be voted into play with "/callvote nextmap snowstation-b3".
You can download it from here: http://unvanquished.net/downloads/main/map-snowstation-b3.pk3
Screenshots: