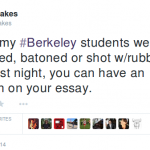 I don't have words to describe the events in the nation of the past few weeks, which is strange, because I usually have words for everything. Feels. I have them. But I don't have words. I'm too upset for words.
I saw this earlier today:
I couldn't decide whether to laugh or to cry, so in the end, I did both. But mostly cried.